Joselyn Wilkinson - Music
Joselyn has always been moved by roots music, from all corners of the globe. She was weaned on progressive bluegrass played live at her church in Montana, and the singer-songwriter, reggae, and soul music of the '70's. In college, she spent a year in Ghana, West Africa, and studied percussion with master drummers. Her research into traditional women's music there was the basis for her band, ADAAWE, 7 women of the voice and drum. With ADAAWE, Joselyn toured across the country, and opened for artists including James Brown, Sugar Hill Gang, Mickey Hart and Spearhead. ADAAWE became a festival favorite, and performed headlining concerts at venues such as Grand Performances, John Anson Ford Amphitheatre, University of Utah Performing Arts Center, McCallum Center for the Performing Arts, University of Arizona and many more.

As a solo artist, Joselyn released two albums of original music, "ShapeShifting" and "Chance for Rain," which received rave reviews and radio airplay, and were supported by performances at festivals, colleges and clubs like the Conga Room, Viper Room and legendary Temple Bar in Los Angeles. Her new project, "Always Coming Home" with husband and multi-instrumentalist, Don Barrozo, strips sophisticated songs down to their essence, exploring the crossroads of folk and soul, life and dreams, and the balance between motherhood and self-fulfillment, reconciling the pain of the past with the gift of the present moment, even in a troubled world.

Chance For Rain

Earthy songs, vintage keys, poetic lyrics


ShapeShifting

Neo soul, folk, spoken word


ADAAWE - Passage

African rhythms, world vocal fusion
Powered by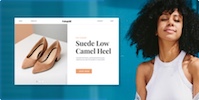 Create your own unique website with customizable templates.